So I was playing with these unifix cubes and it made me think about my work as a teacher and an administrator.
I imagined that each cubes represented one unit of productivity. So maybe this block represented one worksheet that I created, or a game that kids can play. For now let's just say that this is instructional productivity, and not other things like discipline our data analysis.
As an undergrad I could really only make one or two of these daily units during my student teaching. During my first few days of teaching I could get maybe 10 or so of these, but they were all scattered. I didn't have good transitions and I didn't have a clear picture of things that could build to make a better experience for students. The sideways cubes represents stuff that I put a lot of effort into, but didn't quite work (like yesterday's worksheet).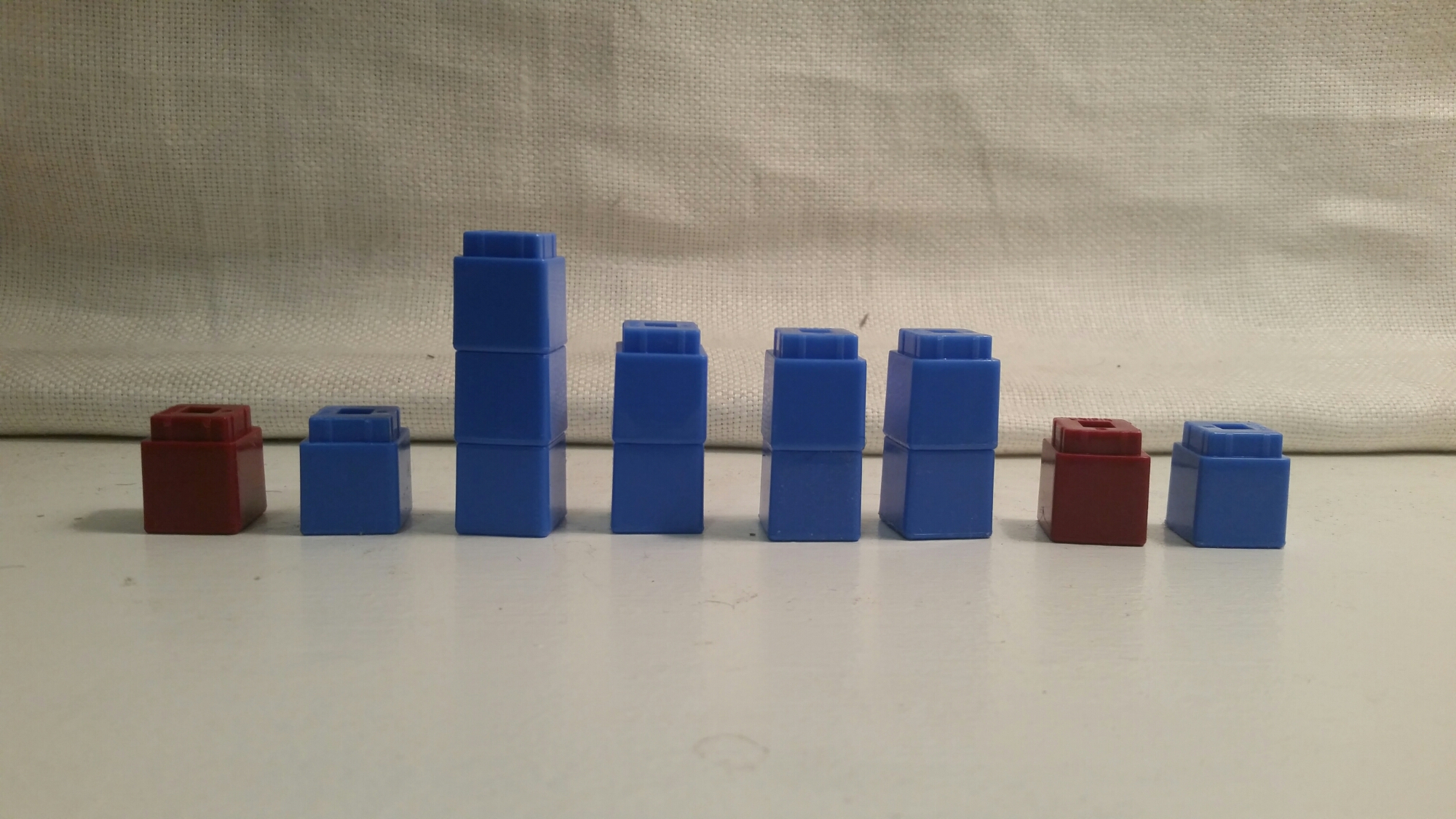 As I got better, a couple things started happening. I was able to start building towers. My coach was able to help see the way do now's could be tied into the start of the lesson, and how that could build into a discussion. I worked with the special ed teacher to learn how to modify things for our population. My efforts got to build higher towers, and higher towers mean more student impact.
As things started improving, however, more responsibilities that were unrelated started to creep in. Those maroon blocks represent the student discipline issues I had to take on because we didn't have a dean my first year at the school.
As I got further along I was able to build higher and higher. This is because I was building off of successful units from previous years, and combining my efforts with those of others in my school. Because of that, I can put together pretty lots of connected ideas that all work together.
At the same time, lots of extra responsibilities start creeping in. Now the yellow tower comes in because I have to help with the scheduling, and the red tower comes in because I manage the website and the computer carts. I still have to deal with the maroon towers for student discipline, and the extra height shows that I'm putting more effort in, and it's building on the previous wheel I've done, but it's still more time that I have to spend. The Orange cube represents time I have to put I to fix things that aren't working in the school. This is where I have to fix the copier jams and deal with the projector that is on the fix. This isn't ideal.
I realize that my goal as an administrator is to put all the teachers in the position to build the highest towers they can. This means I need to set them up to collaborate, and to have the resources and the time and space to make building easy. I also need to make sure that no other systems get in the way of them doing that. So that's the way I see my job. There should be lots more towers, but these were all the blue ones I had.
4/30