First off, it's important that I share my school's bell schedule so this all makes sense.  We are blocked. Monday we meet every class for 1 hour. The rest of the week we alternate periods 1, 3, 5 and 2, 4, 6 and classes last 2 hours each. So on a given week I see Period 4, for example, 1 hour on Monday, and 2 hours on Tuesday and Thursday.
This year I'm planning on a "2 Week Cycle" for my groups. This means groups will change every two weeks.
I have tables of 4, but I plan to make groups of 3 students. The other table will be used for HW folders (see my upcoming HW post), materials, etc. I'm crossing my fingers and hoping for enough desks and < 30 students per class to make this work.
I have 9 (hope to make it 10) Vertical Non-Permanent Surfaces (VNPSs) in my room so I will have 9-10 groups (depending on how many students I have). I use a deck of UNO cards to create Visibly Random Groups by handing out the cards at the door at the beginning of each cycle.
Cycles will start on the first 2 hour day of the week (Tuesday or Wednesday depending on the Period) and then follow a fairly specific routine.
Note: More instructional routines is my #1TMCthing this year. I saw this graphic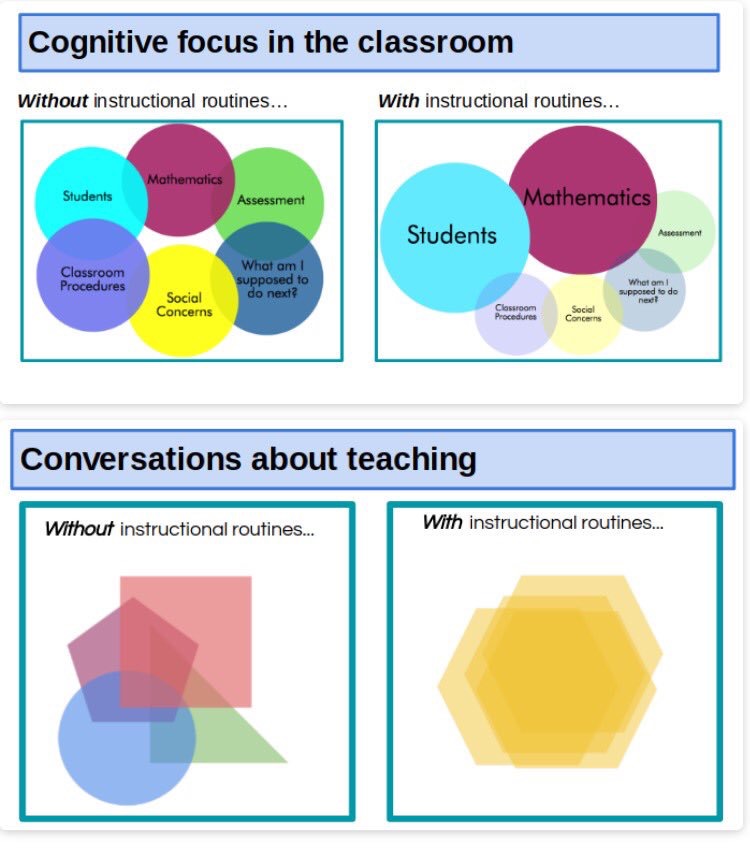 from David Wees at #TMC16 and it made a lot of sense to me. I realize that my class needs more structure this year. The two week cycle is in part a result of this need.  I also want to note that last year we did one week cycles with some of the same structures in place so this is not a 100% change for me but closer to the 10% that Dylan Kane and others have talked about.
Anyway here's generally how the Cycle will go:
Each Cycle will have 6 days (3 per week in accordance with the block schedule) barring holidays, testing, etc. Each cycle will end on a Monday (1 hr) and on that day we will have some type of summative assessment – for simplicity I'll call this assessment a "Group Quiz."
Day 1 (Tues/Wed – 2 hrs):
New Groups. We will start with something to help students introduce themselves. Most likely this will come in the form of a Notice & Wonder, WOBD, or some sort of short enjoyable problem related to the current topic. Then we will continue with the general curriculum program. I will make sure that there is some element that requires the students to get up and work on their VNPSs with their new group mates on Day 1. This should help them get to know each other and start working together.
Day 2 ( Thurs/Fri – 2 hrs):
I will pass back the Group Quizzes (from Monday) with scores but usually without comments. Now that groups have been switched I will ask students to compare answers within their new group and work together to complete "Corrections" for Group Quiz. I haven't decided exactly how I want the corrections to be done but I'll get there. The rest of the class period will be used to continue with the curriculum.
Day 3 (Monday – 1 hr):
Students will break apart their groups for an Individual Assessment. This will be short and summative.
Day 4 & 5 (2 hrs each):
During the second week the groups should be comfortable and we will continue with the curriculum. Should be good stuff going on in Week 2. Two things will definitely happen:
Students will get back their Individual Quizzes and do corrections with their group mates. Lingering questions can obviously be addressed with me.
The groups will do a Presentation. In my class "Presentation" has a broad definition but basically it's an answer to a prompt that requires a lot of explanation and students have to present their explanation in some organized format (usually on their VNPSs).
Day 6 – Last Day (Monday – 1 hr):
As mentioned before students will complete a Group Quiz and bid their group mates farewell. So ends the Cycle.
There will be some nuances and exceptions. Now and then I like to let students choose their own groups for specific tasks, and I will probably continue to do that. Holidays will throw the cycles off at times and we might skip a Quiz as a result, but in general I think this should last throughout the year.
I'm determined to stick to it and see how it goes at least through the first semester.  Please, please, please give me feedback or suggestions now if you have any. I'm putting this in place in 2 weeks and after that there's no turning back!